We are delighted to announce Rusada will be the official sponsor of the inaugural Aircraft Commerce conference & exhibition app.
Replacing the paper delegate packs from previous conferences, the app will allow participants to schedule meetings, click on exhibitor profiles, look at each day's agenda, join in industry discussions on your phone / tablet, view a map of the conference layout, plus much more.
With the success of the Miami and Bangkok events each year, and the relocation of the European event from London to Amsterdam to cope with demand, this is a fantastic opportunity for both Rusada and Aircraft Commerce to grow with each other. All three events in 2016 will see the Aircraft Commerce app proudly carry the Rusada logo.
Having attended the Aircraft Commerce Three Series conferences for a number of years now and seen what a fantastic event the Aircraft Commerce team always put on, we thought we would show our gratitude by sponsoring both the conference app and the cocktail reception.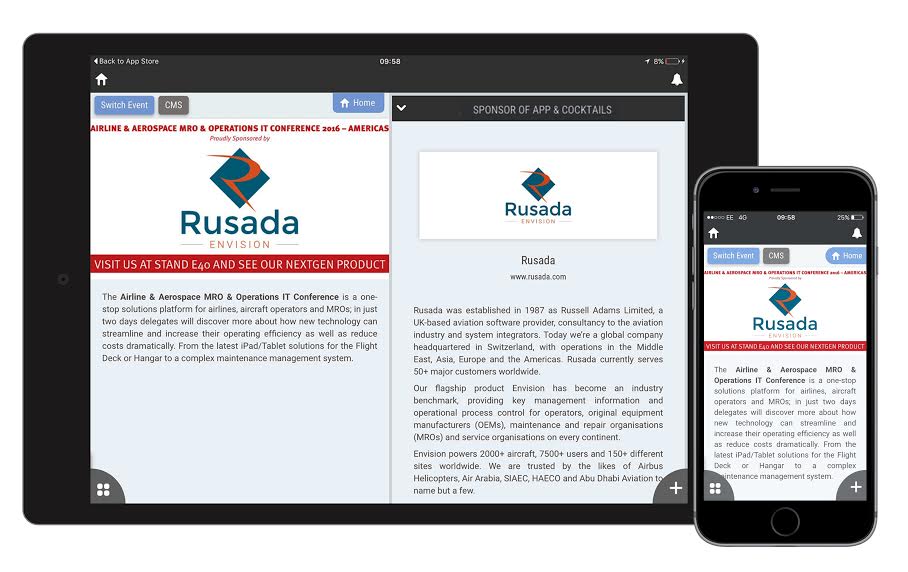 The Airline & Aerospace MRO & Flight Operations IT Conference – Americas returns to the Hyatt Regency Miami Hotel, where Rusada will see its branding across all content associated with the conference. We will be exhibiting at stand E40 throughout the event.
Scott Leslie, Marketing Manager for Rusada, said "The Aircraft Commerce conferences are key dates in our diary every year. We already have a great relationship with the Aircraft Commerce team but we are looking to expand on it. We want the Rusada brand to be synonymous with this event for years to come. The introduction of an app for an industry where innovation is key seemed like a logical choice"
Stephen Keeble, Events & Sponsorship Manager for Aircraft Commerce, said "Our Asia Pacific Airline & Aerospace MRO & Flight Operations IT Conference has enjoyed continued success and has grown with our sponsor Rusada, working together to establish the event as a prestigious date on the industry calendar. We were delighted that Rusada took up our offer to extend this to our Americas and European conferences."
About Aircraft Commerce
Aircraft Commerce is a unique service providing the commercial aircraft industry with in-depth intelligence in a number of formats such as an article archive, Aviation Maintenance Magazine, Aviation Conferences and exhibitions. Other information includes Airline fleet planning, Airframe Maintenance Costs and Aircraft leasing.
About Rusada
A global aviation software solutions company established in 1987 and headquartered in Switzerland, with operations in the Middle East, Asia, Europe and the Americas, Rusada currently serves 50 major customers worldwide with software that manages more than 1,500 aircraft in 20 countries.
The company's Envision software is CAMO-compliant, providing key management information and operational process control for operators, original equipment manufacturers (OEMs), maintenance and repair organizations (MROs) and service organizations.
Scott Leslie, Marketing Manager, scott.leslie@rusada.com, +44 7929 782 382