From innovations you might know about to those you don't, but definitely should…
In order to keep up with competitors, airlines, OEMs, MROs and service providers must innovate and advance their offerings.
Here are just a few of the innovative technologies or projects that have caught my eye in recent months.
1. Advanced wings
Both the leading aircraft OEMs – Airbus and Boeing – are on a mission to introduce the most advanced wings to the market.
Airbus has recently taken its wings to new heights by modifying those currently seen in service on the A350-900 to create a new 'morphing' wing for the upcoming A350-1000, schedule for entry into service in 2017. In fact 90 per cent of the A350-900 parts have been modified to deliver their new invention.
Instead of featuring traditional wingtip fences, the largest variant in the A350 XWB family will showcase elegantly curved wings that arch upwards to provide 31.9° of sweep that increases cruise speed to Mach 0.85.
Boeing has also been busy working away to produce a wing that is both attractive and highly efficient. The OEM's new composite wing for the highly anticipated 777X (set to enter into service in 2019) will feature wing tips that provide a 23 feet increase in span to maximise fuel efficiency.
2. BizLabs
By actively studying the innovators and trendsetters within the market, Airbus is one manufacture that is clearly keen to stay one step ahead.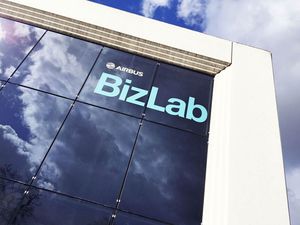 Just months ago, the OEM selected five start-up companies to support closely over a period of six months as part of the Airbus BizLAbs, which according to the company are accelerator facilities put into place "to speed up the transformation of ground-breaking ideas into valuable business propositions".
The five innovative projects were announced on August 3, 2015 and are listed below:
• 3rd Trust, which is a project that facilitates the streaming of printing data to remote 3D printers;
• OBUU, which is a project for a ground system equipment that could potentially lead to reduced maintenance costs and improved fleet availability.
• PaperClip Design, which is an innovative flatbed suite that can be transformed into a premium economy class seat;
• SimSoft 3D, which is a console for voice-guided operations that can be used to open up an interactive dialogue between the operator and the machine, and;
• UWinLoc, which is a low-cost high in accuracy tracking system.
…Watch this space!
3. Drones
While I've already touched on how effective drones could be in the workplace in my previous blog post on how to minimise aircraft downtime, it's definitely a technology that deserves another plug.
While there are still a few doubts surround drones, they will provide an opportunity for a reduction in man-hours and easier visual inspections, which would prove priceless for aircraft owners and MROs.
4. 3D Printing
From prototypes to engine parts, 3D printing has gone from being a handy technology to a front-running innovation that stands out from the crowd.
Manufacturer, GE has been one of the leaders in 3D printing with the incorporation of the technology into its LEAP engine, which will power the A320neo. This particular engine is set to feature 19 3d-printed fuel nozzles and parts, resulting in a 15 per cent fuel benefit compared to similar CFM International engines.
In fact, GE claims that by 2020 there will be 100,000 additive parts manufactured by GE Aviation. Watch this space.
There is no doubt that this additive manufacturing method looks set to change the market, as we know it.
5. Netflix at 35,00 feet
And now, something for the thrill-seekers… You are now able to enjoy streaming Netflix at 35,000 feet onboard a Virgin America flight!
The collaboration (announced on September 30) means that Virgin America will now provide complimentary in-flight Wi-Fi access to its passengers to ensure that any Netflix members are able to watch all of their favourite shows while in flight. #NetflixOnboard
If you have any innovative technologies that you would like to share, just tell us below.